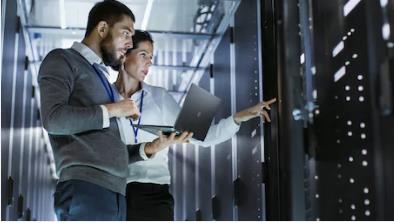 People all over the world are falling in love with CompTIA certifications and we understand why! Our Quick and Easy Guide for Passing CompTIA A+ Certification Exams will walk you through everything you need to understand the CompTIA A+ certification process and pass on the first try.
What if I told you that you didn't have to attend college for four years, go into insane amounts of debt, and find yourself burnt out at the end just to get a good job? Whether it's trade schools or programming camps, the tech sector is one of the few spots where experience often trumps education. Certifications like CompTIA A+ are designed to get you on the job, in the field, and getting paid WELL within a matter of months or even weeks. That's because tech skills often require knowledge that just can't be learned in a classroom. By the time you finish a four-year degree in IT, much of what you've learned has started entering into a state of irrelevance!
Why would I get A+ Certified?
CompTIA A+ is the baseline for starting out in the IT world. Unlike complex logical skills like programming, CompTIA sticks to the more blue-collar feeling ethos of fixing physical hardware and understanding the operating system itself. CompTIA is the premiere certification expert for entry level IT certifications. When you hire an employee who is CompTIA A+ certified, you know you're getting an employee who understands what they are doing. Hopefully you are sold on the idea! So what does a CompTIA certification entail?
What does the Exam look like?
CompTIA A+ consists of 2 exams, the 220-901 and the 220-902. These two exams certify that you are capable of working on a wide range of hardware and software configurations as well as entry-level IT work (From fixing printers to building computers!). Don't let entry-level mislead you though, it takes hundreds of hours and lots of experience to be proficient in the many categories that the 220-901 and 220-902 cover. The cost is $211 per exam and you can expect to test for up to 90 minutes per exam. CompTIA recommends 9-12 months of hands-on experience in the lab or the field, but we know with the right tools, you can tackle these exams much faster! To pass, you need a score of 675 out of 900 for the 901 and 700 out of 900 for 902. That leaves little room for error, so make sure you master the material!
What are the Exam Objectives?
Both exams cover a LARGE list of material. The 901 and 902 objectives can be seen by clicking on the respective links. Below are the broad categories but be aware that they represent a HUGE amount of content. 901 is mostly Hardware related and 902 is mostly OS and Software related.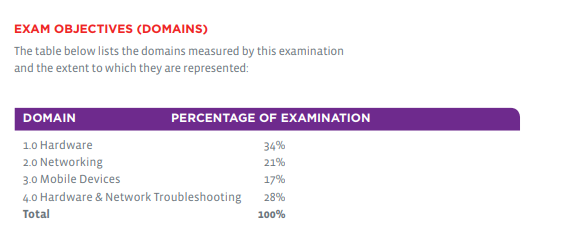 How can I pass the 220-901 and 220-902?
We've been there before, nervous about certification, wondering if it'll cost more than it is worth to get certified. That's normal. It wouldn't be the Quick and Easy Guide for Passing CompTIA A+ Certification Exams if we didn't have some stellar tips for nailing the CompTIA A+ Exams!
Build a lab. This is THE MOST IMPORTANT preparation step
Imagine you are about to take off on an international flight. Moments before take-off, you hear the pilot speaking, "Passengers, don't worry. I've read all about this in a book. We're going to be fine."
I'd imagine you'd leave the plane quickly.
Trying to get certified without building an actual testing environment is like trying to fly a plane without any real experience.
The best practice environment you can have for passing the 220-901 and 220-902 at minimum includes a desktop computer, modem, router, a testing device, and access to the internet. This will allow you to practice a TON of the material, whether it's opening the desktop up and looking at parts or creating a miniature network that connects to your phone. We cannot stress enough how important it is to create a practice lab.
It's 2019, Youtube can teach you almost anything
CompTIA can be a little complicated. In fact some material might take a few attempts to understand, let alone master. Youtube is a free platform with hundreds of videos on relevant subjects such as those by Professor Messer. Techies like Messer have hundreds of hours invested into helping people learn IT subjects and offer a visual, informative guide. We also recommend Udemy or Coursera for an in-depth class, but be aware that those may cost a bit of cash.
Use online practice exams to get a feel for the actual test
Certification has been around long enough to have a die-hard base of passionate teachers. Many of these take the time to create Tech Certification Exam websites that offer free practice exams for those looking to learn a trade. One of the best ways to learn is by taking a practice exam online. These high-quality exams are an incredible tool for getting a feel for what the test is actually like. Most include real-life approximations of test material and have experienced certified individuals behind the scenes writing them. You can find current exam preps from examtopics.com that cover everything you'll need to know about the 901 and 902, as well as many other exams. Practice every day until you've mastered the practice exams and you'll do very well come exam day!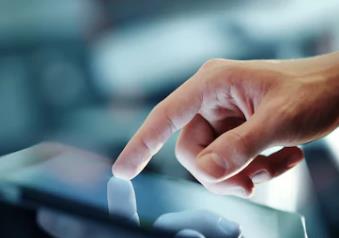 What type of jobs can I expect with an A+ Certification?
There are a ton of opportunities for using your A+ certification. In fact over one million tech jobs today remain unfilled because there are not enough qualified individuals. Demand far exceeds supply. A+ can be thought of as a Jack-Of-All-Trades Certification. Some possible jobs would be, Network Administrator, IT Specialist, General Technology Expert, IT Manager, Support Technician, and much more. You can expect to make $50,000-$70,000 starting out with an A+ Certification. Get some experience under your belt and another cert and you'll be making quite the income!
Keep on studying and you'll do fine!
Thanks for reading through our Quick and Easy Guide for Passing CompTIA A+ Certification Exams. We hope it's helped clarify a few things. If you have been helped by this guide, please leave a comment below, and reach out to us if you need a bit more help. As always, please like, share, and subscribe to us for more Certification related content and good luck on your tech journey!