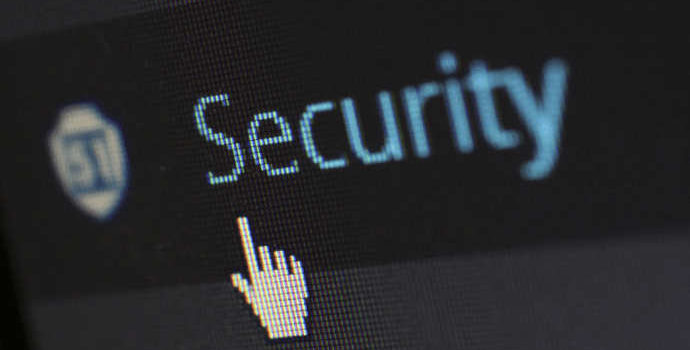 Cyber Security isn't just a nominal career. It pays well and can have you working in top-secret government facilities or knowing the inside secrets at a multi-billion-dollar corporation. Because of this Cyber Security careers have to have a SOLID foundation. It requires an employer placing huge amounts of trust in you. We created this guide on How to Start A Successful Career in Cyber Security to help those who want to jump in to a new career but don't know how! In this guide you'll find tips and strategies, a breakdown of Cyber Security roles, and some REALLY important notes for Cyber Security interested individuals. So if you want to enter an exciting job field where you have some of the most demanding problems thrown at you, read on!
What is Cyber Security?
Cyber Security is a really broad field that involves many different job descriptions. Normally it'll fall to Cyber Security professionals to secure systems and keep viruses and nefarious users from gathering data or hacking a company. That being said, Cyber Security can be more intense than that. Some countries employ government hackers and ethical hackers for a host of reasons. Some Cyber Security roles involve forensic analysis of data or even getting the data from a suspect (For instance working with Interpol might require gathering data). The jobs are limitless. But they don't start there. Entry level Cyber Security, like all good work, starts with on the ground practical skills. Some boring day to day work mixed with exciting moments and sometimes a bit of thrills.
Why would I want a CyberSecurity job?
CS jobs are not only fascinating and challenging, they pay really well. If you want to make six-figures and be invaluable to companies worldwide, CS is a great career path. Unlike other IT fields, CS is rarely boring. You can tackle some of the most unique computer problems out there today and have to consistently hone your skills. Due to this investment they want to keep you on staff, and that means good compensation. Read on if you want to know How to Start A Successful Career in Cyber Security!
Live as clean as possible
This may seem a bit obnoxious to some but like many career paths, what you do outside of work genuinely matters. Security is very sensitive, so employers want to know that you'll be a hard-working stable member of society. The most demanding roles will involve significant background checks. Even a starting role at the right company will require regular drug tests and really good references. Security jobs require the utmost integrity and you definitely don't want a criminal record, nefarious internet habits, or drug issues on the job. This means you have to show integrity from day one to your employer.
More so, before pursuing a career in Cyber Security, take the time to comb through your social media and remove anything that would be looked upon poorly. It's also suggested to remove sensitive information that could be leveraged against you someday by someone trying to break into your workspace.
Get IT Experience on the job
IT jobs are pretty easy to come by and even entry-level jobs at businesses like Fry's and Best Buy can be great to start with. Working in Security will require intimate knowledge of security programs, the OS you work on, servers, and maybe some slight programming knowledge. It makes a huge difference to an employer when he sees practical on the job experience doing systems administration or another IT related task before entering the Cyber Security field. Unlike fixing hardware, one flaw in security can RUIN a company financially and legally. Thus employers want IT professionals with experience. That's hard to come by starting out but at an entry level gig you can practice some skills and get your foot in the door.
Get Certified in a Foundational Cyber Security Certification
We recommend going the CompTIA route because CompTIA Security+ is a diverse all-around certification that will help round out areas in your Information Technology knowledge that might be lacking. For example, below you'll find the test details and the FIRST section of the exam objectives for SYO-501.
It's a lot of information! On the plus side though, knowing this will make you an incredible starting candidate and in your interview phase you'll easily be able to assure them that you understand Security.
Exam Details: Take the CompTIA Security+ SY0-501 exam, a 90 minute exam with 90 questions. It's recommended that you have two years of experience in IT and Security.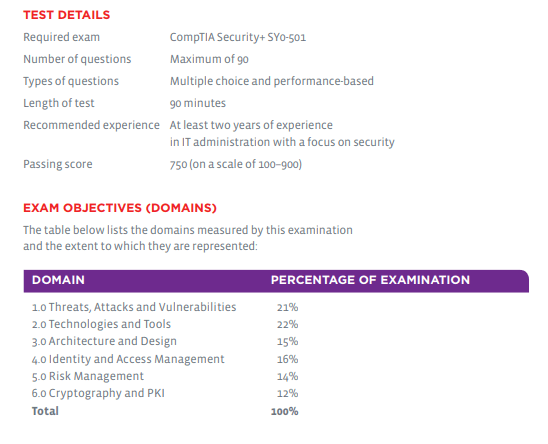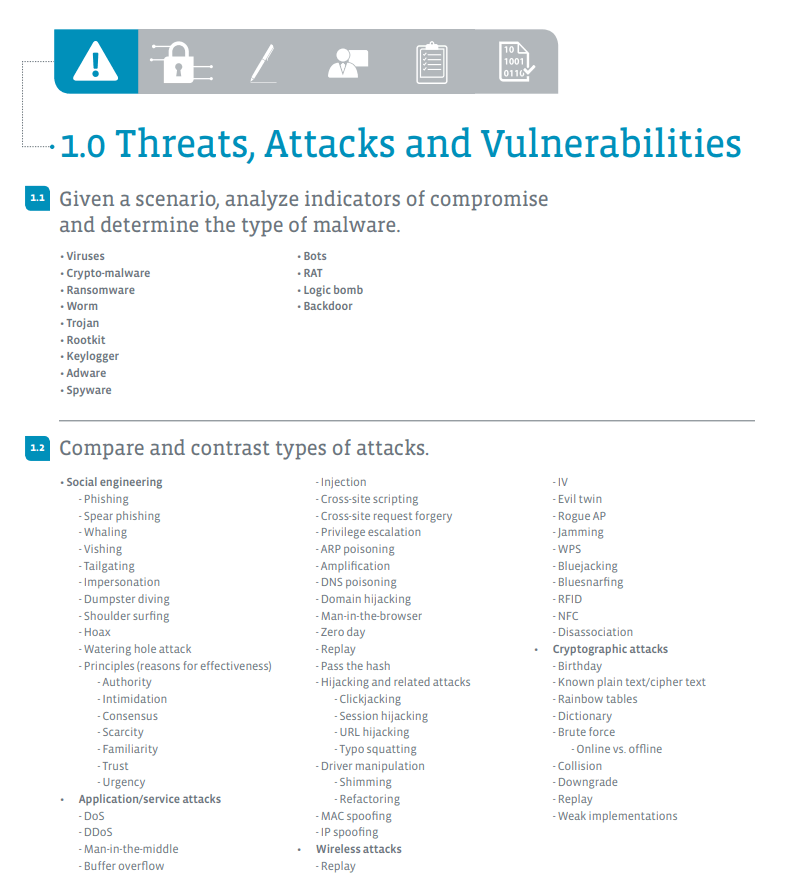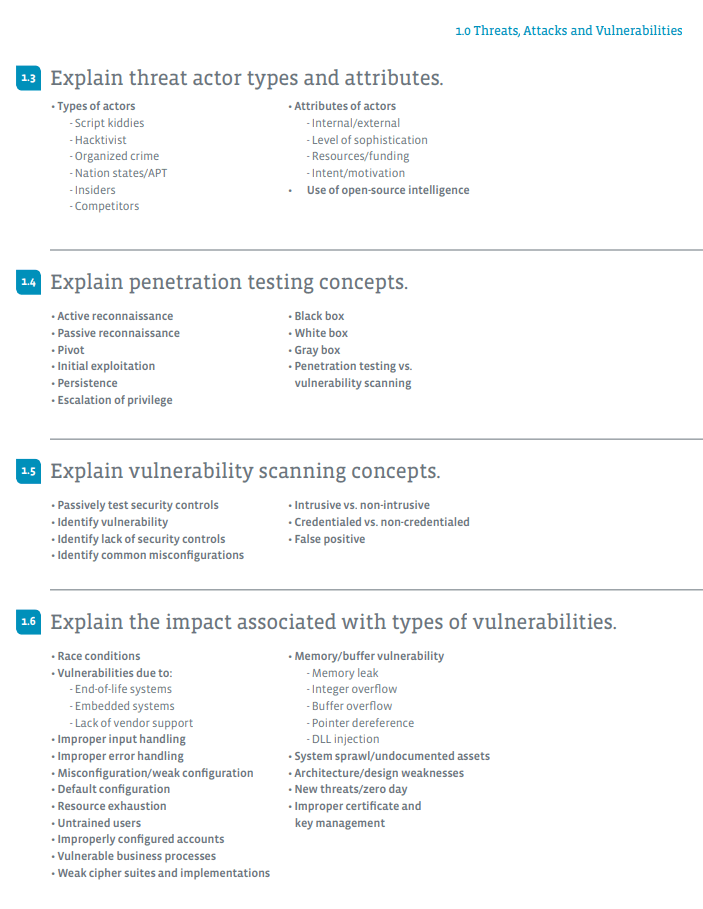 Woah! That's a lot to learn!
We know it can be intimidating to see that much knowledge required before getting your foot into the CS door. We have one really important tool though that you can use to get an edge and learn the knowledge you need. You don't need two years of experience but you do need to study hard and study smart! Studying for an exam is complex and you often have to guess at what is on the test, that's why we recommend using online practice exams. For instance the CompTIA Security+ Practice Exams from Examtopics YouTube channel. They offer hundreds of high-quality online exams that have been written by people who actually know and understand the subject and the certification. That means your practice exam will look like a real world certification test. Using these exams you can see what the test is like, what information you need to study, and how you can nail your certification in one shot. And as we said, it's all free!
After getting certified, start a dream career!
Unlike normal IT roles, people are chomping at the bit to get Information Security professionals. You'll get a job quickly as long as you have a clean record, a certification, and little experience under your belt! This article has some great thoughts on the current market and how you can snag a job in Security!
Starting a new career can be intimidating and ultimately quite challenging. That's why we appreciate you taking the first step by reading our guide on How to Start A Successful Career in Cyber Security. If you've learned something, please take a moment and share with us what it was. And as always, like, subscribe, and keep checking back for more content on the incredible world of certification.
YOU MIGHT ALSO LIKE